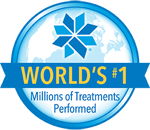 CoolSculpting®'s unique technology uses controlled cooling to freeze and eliminate unwanted fat cells without surgery or downtime. The procedure is FDA-cleared, safe and effective. The results are lasting and undeniable. With millions of CoolSculpting® treatments performed worldwide, people everywhere are getting a better view of themselves, thanks to CoolSculpting®, the world's #1 non-invasive fat reduction procedure.
Click below to learn more about CoolSculpting®.
CoolSculpting®

Get a jump start on your summer body.
Don't forget we offer
CoolAdvantage with shorter treatment times & greater comfort with the same GREAT results!

$100 OFF Small Handpiece
$150 OFF Smooth Handpiece &
$200 OFF Large Handpiece
*Additional BD rebates available for multiple handpieces.
Regular Price: $700.00

Now only: $600.00